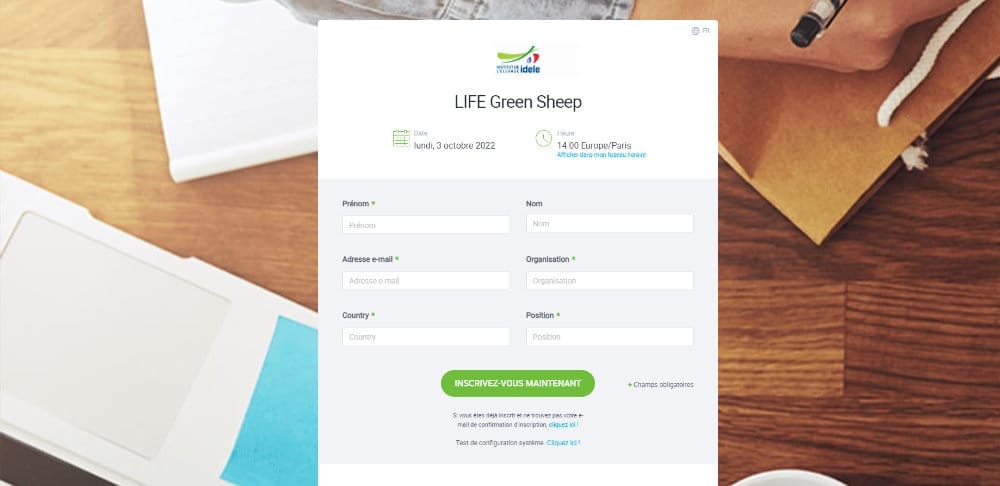 1st European webinar of the Life Green Sheep project 
03 October 2022
14:00-16:00 CET 
Are you interested in improving environmental and sustainability performances of sheep farming? Attend this webinar and discover the LIFE Green Sheep project! 
This project aims to demonstrate and disseminate actions to reduce the carbon footprint in European sheep farming sytems (dairy and meat). 
This webinar is free and open to everyone (webinar in English !). 
Register : https://idele.clickmeeting.com/life-green-sheep/register 
Full programme available : 
Introduction – Sébastien Bouvatier – French Ministry of Agriculture

 
Overall presentation of the project – Sindy Throude – Institut de l'Elevage – France

 

Development of common methodology to assess environmental and sustainability performances – Alberto Atzori – University of Sassari – Italy

 

Training of 143 "carbon" advisors – Catalin Dragomir – IBNA – Romania

 

Involvement of 1,355 sheep farms at the European scale – Sindy Throude – Institut de l'Elevage – France

 

How to disseminate the results of the project and inform farmers and avisers widely ? – Caroline Guinot – France

 
European carbon farming – Jean-Baptiste Dollé – Institut de l'Elevage – France

 

Questions / Answers

 

Conclusion

 
MORE INFO: 
Sindy Throude: +33 4 72 72 49 64 / +33 6 09 95 41 41 
contact(at)life-green-sheep.fr