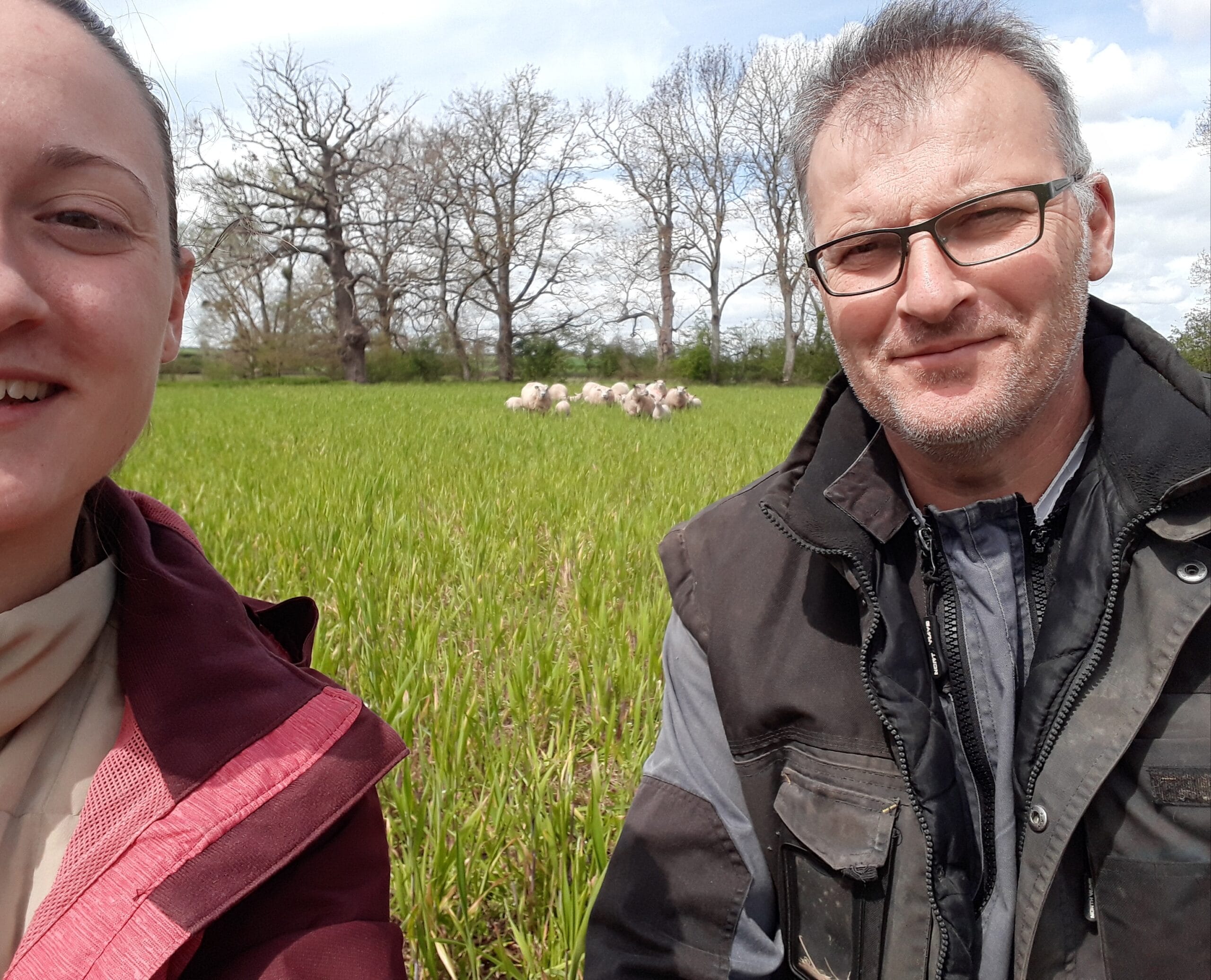 Fabien Paris is a mixed farming and meat sheep breeder in the Allier region and his daughter, Julie Paris, a technician for the Feder-Elevage group, is following him in the Life Green Sheep program. At home, the CAP'2ER diagnosisLevel 2″ has reinforced strong choices for system evolution: towards more autonomy, more performance and more carbon and nitrogen recycled in the system. The potential reduction of greenhouse gas emissions for the sheep farm is – 22%. This is an exceptional situation linked to a willingness to modify certain practices and also linked to the mixed farming-livestock system, which allows more adaptations than a specifically sheep system.
It is a mixed farming operation with 152 hectares of UAA including 52 hectares of permanent grassland but also 22 hectares of grain corn and 42 hectares of straw cereals. The 320 lambings in the Ile-de-France cross Charollais breed are done in 2 periods: March and December. When we carried out thefirst CAP'2ER® diagnosis," recalls Julie, " we identified that the main areas for improvement were mineral fertilization on cereals and external purchases for animal supplements .
Fabien has activated several levers to improve technical and environmental performance.
He has worked on the fertility and prolificacy rates, which have risen from 90 to 95% and from 1.37 to 1.57 respectively, by better managing the use of ewes in good body condition. This has limited empty animals and increased the number of doubles.
He increased his temporary grassland area to 30 ha by taking from the cereal area and reseeded it with legumes, which allowed him to achieve food autonomy and to do without nitrogen correctors. The construction of a barn dryer has improved the quality of the stored fodder and also saved fuel oil for drying grain corn.
He has opened up his cereal areas – sown with plant cover – to winter grazing by sheep, which allows him to save fodder and increase his sheep forage area.
He stopped ploughing which saves him fuel and should, according to the farmer, increase the carbon stocks in the soil (even if this is not yet accounted for in CAP2ER)
He changed the type of effluent from slurry to liquid manure, which reduces nitrous oxide emissions.
Finally, it has equipped itself with photovoltaic panels on the drying building. They provide the necessary heat for drying.
For Fabien Paris, " This kind of diagnosis is the necessary step to enter the carbon loop – I regret not having done it earlier, but it should be refined because we are missing many agroecological practices such as soil conservation techniques. We should also be able to better valorize the results, both in terms of communication and financially with carbon credits. On my farm, I'm already seeing significant improvements economically but also in terms of labor time with less forage distribution and less tillage."
The mixed crop-livestock system allows more latitude to adapt than a purely grazing system," says Julie, " we can choose the cereals, modulate the surfaces, graze between the crops.